More Than Just Electronic Banking
Each of our services helps to streamline your business processes and guarantee that you maximize recovery of funds whether by verifying the check at the point of sale or collecting on insufficient funds for checks written.
Additionally, MasterCheck offers specialized back-office solutions to assist you in reporting and making check collection information immediately available to your business.
What's New at MasterCheck
MasterCheck will be attending NACS Tech Expo at the Gaylord Texan Resort and Convention Center in Grapevine, TX on May 19th and 20th.
MasterCheck will be attending the PACE (Petroleum and Convenience-Store Expo) at the Branson Convention Center in Branson, MO on February 27th and 28th.
December 2007
MasterCheck launches NextChex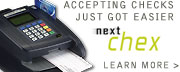 MasterCheck
Services Include
Each of these services protects a financial aspect of your business and ensures that you receive payments for goods and services rendered. MasterCheck has the capability to customize solutions for your authorization and verification needs.
Contact MasterCheck today for all of your authorization, check verification, and check recovery solutions.